Teatre Animal is a company made up of Lluís Petit and Judit Ortiz, who created in 2011 their first production alongside the illustrator Kilomba, with Obsidiana's collaboration in production.
After hundreds of shows around the world, they present "Land", their second piece of work, where they continue their artistic endeavors.
Teatre Animal is scenic art in interaction. With the exploratory imperative of smashing the fourth wall, they conceive of theatre as a fresh, lively artistic expression. This exploration involves all three creators, playing with the ephemeral nature of art and theatrical and plastic improvisation.
« All members of the company, both real and invented, have something in common: we are all truly animals. »
Teatre Animal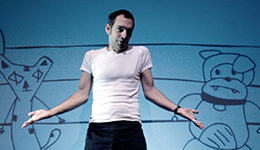 Haya Cultural Center (Amman, Jordania)
Multi-Arts CULTURAL ACTIVITIES HALL (Hong Kong)
Macao Cultural Centre (China)
Art Space for Kids (Shanghai)
Super Theater (Beijing, China)
China Shangai International Arts Festival  (Shanghai)
FIET (Illes Balears)
La Mostra d'Igualada (Catalunya)
Fira de Titelles de Lleida (Catalunya)